Join us as we study God's Word
MBC is a Bible believing church. We believe Bible truths should be taught, studied, and obeyed. John 17:17 says "Sanctify them in truth, your Word is truth." No matter if you are a new believer, have questions about your faith, or have been studying God's Word for a long time, we invite you to join us…we are all learning!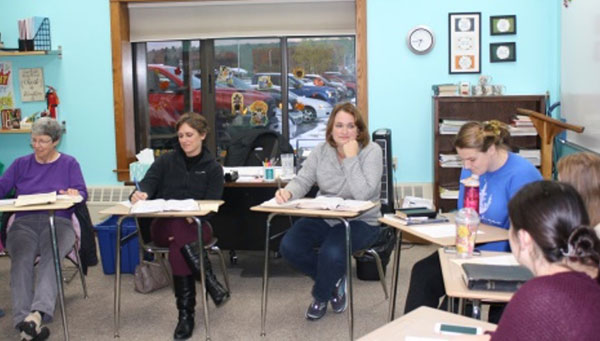 On
Wednesday Nights (6:30-8pm, Teens 6:30-7:30pm)
we have a variety of Bible study groups:
LADIES – A ladies' group meet at the church. They discuss Scripture, pray together, and have encouraging fellowship.
MEN – The men meet at the Van Antwerp Ministry Center next door to the church. They work on a variety of studies and enjoy some hearty discussions.
TEENS – Grades 7-12th (roughly 13 to 18 yr. old) meet to mingle, learn from scripture, play some games, and participate in outings of various kinds.  We meet in the Teen Center and "Seth Zone," located in the Van Antwerp Ministry Center.
AWANA – Grades K-6th Learn more…
NEIGHBORHOOD FELLOWSHIP – If a person prefers a homier atmosphere, there are small groups that meet in nearby homes. They have a lighter study discussing pastor's Sunday sermon.
Small Group Study Opportunities
LADIES – A seasonal Bible study. These studies are held once a week during the day at the Van Antwerp Ministry Center. The ladies explore the power of God's word using workbooks, share prayer request, and enjoy activities.
MEN – Men of Integrity meet every other Thursday at 7 am. They enjoy a cup of coffee with a challenge from God's Word to begin their day.